Post by QwertyuiopThePie on Mar 7, 2011 4:21:49 GMT
Physical Description:
Nonjas are very simply dressed. They wear a robe that looks similar to this: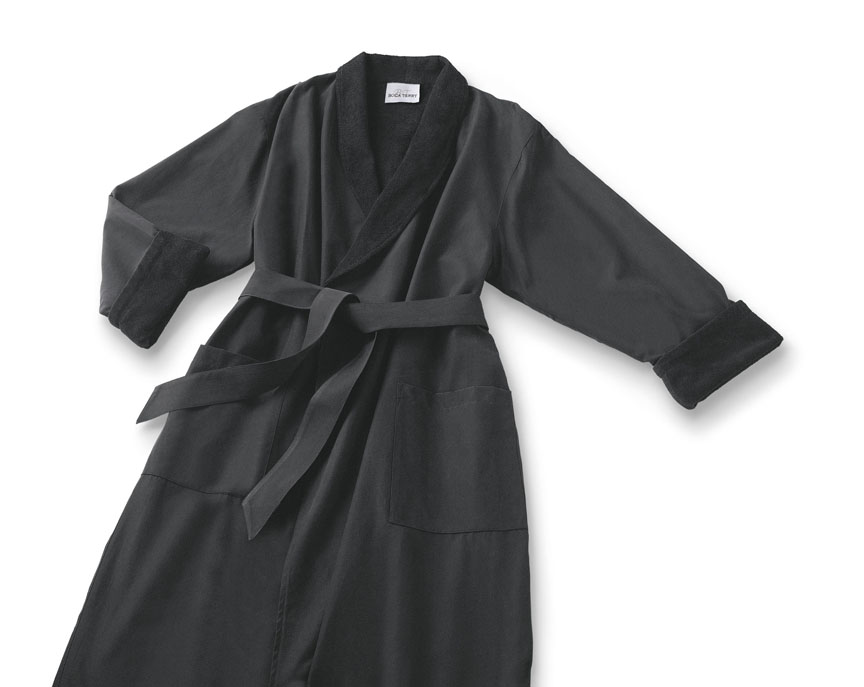 Their belt, as with all the trimmings, are red. Under that they wear a black jumpsuit, but it is rarely seen. The robe has Kevlar woven into it. Attached to their waist is a black bag, which looks somewhat like a laptop case. The contents will be discussed later. On the other side is a katana sheath. Whichever side the katana is on depends on the hand dominance of the Nonja.
On the robe is the Nonja insignia, in red, over the left chest. Over the right chest is a small label indicating rank and security clearance. The Nonja insignia looks like this:
Note that this symbol, in red, on black cloth, is also the Nonja flag.
Nonja Lives:
The majority of Nonjas are born within the base. The Nonjas have done much research into genealogy and genetic modification in the unknown deep of the torture chamber. As such they know exactly who should breed with whom to produce the strongest fighters possible. Nonja Fighters are not exempt from this breeding process, which occurs in the top-secret parts of the torture chamber.
From birth, Nonjas are sent to the barracks. Nonjas have no true names, only numbers, although nicknames are permitted amongst officers. They are trained since birth, and constantly bombarded with propaganda and ingrained with belief that their cause is just, Temporarily9 is a god, Temporarily9 must be protected at all costs, to defy Temporarily9 will result in immediate incineration... you get the idea. As soon as they can walk, they are pulling switches and torturing Nonja Fighters for fun. By the time they are 7 or so, they patrol some of the lower-security areas of the base.
Their place in the barracks shifts constantly, so as to avoid personal friendships, and everything they say is monitored. Those that are deemed unloyal to Temporarily9 are incinerated, as their training makes them too much of a risk to be held captive.
Eventually, as time passes, those more loyal to Temporarily9 may get promotions, and the stronger and less intelligent soldiers guard more high-risk areas.
Occasionally, a Nonja enters from the outside world. Unless the base is in a crisis, such people may be quarantined and indoctrinated until they are deemed fit for a position. If they are on the more intelligent side, Temporarily9 may hire them to a much more potent position, so they have something to lose should the Nonja Base fall. These people may not be as loyal to Temporarily9 as the standard Nonjas, but that is rarely an issue.
When a Nonja dies, in the field of battle or otherwise, they are processed in a specific manner. Any important implants and uniforms pieces are removed, and generally the entire body, bones and all, is ground up and used as ramen flavoring for the Nonja Fighters.
Suggested viewing for this section is Education for Death, by Disney:
Personal Items:
No Nonja of Class D security or below is allowed to own possessions. Storage of such is a capital crime and will be punished with incineration. However each Nonja does have a few items from the Nonja cache that they are permitted to use, and a few that are kept by their bunks. All is standard-issue. The exceptions to this rule are the high-ranking officers, and of course Temporarily9 himself.
The standard Nonja carries with them at all times, and assume any specific Nonja is carrying this unless stated otherwise:
Instant Ramen

String of flavoring packets

Small portable oven

Gun (varies depending on skill)

Katana (sheathed, on the opposite side of the bag)

Small portable radio

Vial of Hydrofluoric Acid

Other tools Nonjas carry depend on their specialty.
Torture Operators:
No gun (unless they use one for torture)

No portable oven (they have larger non-portable ones)

No katana (again, unless used for torture)

Portable Torture Devices (may be set down on a standard metal tray hanging from the ceiling when prisoner is properly constrained)

Restraints

Rope

Camera

Torture Operators remain in the torture chamber, but only in the low-security section. They oversee torture and are well-trained in the art of inducing excruciating pain in a humiliating (and frequently corny) manner and keeping the subject alive to be tortured another day. They are also trained in camera operation and have minor access to the base's computer network (the camera streams their torture live to the base's entertainment system). They operate in shifts throughout the day and most have never seen sunlight.
Temporarily9 and other Inner Sanctum staff / generals:
Nothing

Whatever they want (when outside IS)

Temporarily9 does not need to carry anything, as everything he needs is provide within the Inner Sanctum itself. Same goes for other Inner Sanctum staff, including the anti-hack Nonjas that spend their time searching for loopholes in the security and sealing them, and fighting off cyber-attack. Should they decide to go where they wish (which most higher-ranking officials may do), they can take whatever they think is the right tools for the job.
Base Guards:
Base guards just guard the base. Different security levels of base guard guard different regions, but essentially that is all they do. They believe that the base (or, for some lucky ones deployed outside in a crisis, the island) is the whole of the existing universe. They stay inside. The light coming from outside the main entrance is forbidden to them except by direct order of Temporarily9.
Scout Groups:
Multiple Guns

Extra Ramen

Portable shelter

Map

Infrared detector

Longer-range radio

Helmet (designed to shield interior noises from outside, also protective)

Scout Groups spend little time in the base past training. They are generally Nonjas at the peak of their fitness, in their mid-20 to early 30s. The extra gear is generally spread out amongst the Nonjas in the scout group. Nonja scout groups are high-risk, not only because of their immediate exposure to Nonja Fighters, but also due to isolation from the base and its propaganda, exposure to the concept of Nonja Fighter freedom, and ties amongst each other within the group. As such groups are frequently switched around, and areas of patrol are swapped. Also, note that these groups lack the red of their uniform for stealth purposes and that their belongings (as they must carry more of them) can be quickly released in the event of unexpected combat.
Transportation Workers:
Transportation workers work the helicopters (funfact: Designed without enough fuel to reach the mainland), transportation trucks, and other vehicles. They don't actually have to have anything on their person, and if they do need something, they have the standard equipment pack in their vehicle.
Kitchen Staff:
The kitchen staff oversee production of flavor packets and operate the Ramen production mechanisms. They do not need to carry anything and any tools they do need are provided in the kitchen.
Maintenance Staff / Technicians:
Toolbox

Scanning equipment

Extra robes

These guys do maintenance. They have the standard pack in case they are interrupted. The extra robes are in case their jobs damage their other set.
Unknowns:
Work in the torture chamber. High security clearance. You do not need to know more.
Ranks / Security Clearance:
In the Nonja army, ranks are generally tied into the security clearance of the person, although exceptions are made when needed (for instance, in the Inner Sanctum staff). They are as follows:
Class F - Nonja Fighters. Mostly a joke.

Class E - Guests. Obviously the Nonjas do not allow them, but this class is used to lure in people for recruitment.

Class D - Privates. Generally younger Nonjas go here.

Class C - Low-level officers. These field operators control small groups of Nonjas. This rank and above are permitted nicknames. Players of Nonja Invasion that choose to be Nonjas generally start out here.

Class B - Commanding officers. More intelligent Nonjas hand-picked by the generals and reviewed by Temporarily9. These have clearance to enter the Inner Sanctum, but are still limited and controlled. Allowed to carry small personal possessions.

Class A - Generals. Temporarily9 chooses these themselves, and always for very good reasons. These Nonjas are given a great deal of freedom, mostly spend time in the Inner Sanctum, or are sometimes given outposts of their own.

Class X - Temporarily9. Can do anything he so pleases.